Can't seem to quite find a place on the radio dial that speaks to you and the issues you face?

Well, here's the place for you - Man2Man Express Radio! Five days a week, fifty-two weeks a year Man2Man Express delivers relevant ministry to the lives of men across the country with interviews and biblically challenging srgments.

Tune in our colleagues and Man2Man hosts Dave Bequerie and Brian Doyle every day to connect to men and to be encouraged.
LISTEN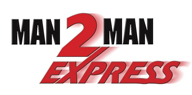 WACMM Partners with Radio Network

to Reach and Encourage Men

.